Chris Bronstad
Realism | Painting | Drawing
I am a realist artist, specializing in portrait and landscapes in charcoal, oil, and pastel. I also do much of my landscape oil paintings en Plein air, as well as in the studio. I've lived with my wife in the natural beauty of the Pacific Northwest by Puget Sound since 1987 having moved from Texas. We eventually settled on the Key Peninsula where we raised our daughter and shared with her a passion for nature and art, both of which has truly blossomed in her life. My wife and daughter are also superb artists.
I taught middle school sciences (Earth, Life, Physical), for almost 29 years as well as math, aerospace and art (2007-2018). I also taught afterschool drawing and art to this age group for 19 years and some adult drawing classes off and on since 2009 for Two Waters Arts Alliance. I retired from public school teaching in 2018, and since then I have taught two drawing classes for seniors at the Mustard Seed Project in Jan. 2019 and 2021, and have been Plein air painting with many of my students in the area since May 2019.
Regarding my development as an artist, I've drawn realistically since elementary school and did my first oil painting with my grandmother in the mid '60s. A number of years ago in the mid-70s, on an extended tour of Europe, I visited many of the great art cities and museums from Munich, London, Paris and Amsterdam to Florence, Rome and Venice and reveled in the opportunity to study, firsthand the work of the Masters. I'm inspired by many realist artists, and three stand out: John Singer Sargent, Andrew Wyeth and Richard Schmid for their styles, subject interests and vision. I focus in my own art including portraiture, figure, landscape and wildlife a strong emphasis in accurate drawing and naturalism in mood and color. in the mid-90s I began doing portrait in charcoal, and pastels, now doing more work in oil. I am interested in the likeness and expressive character of my subjects. While developing my approach to portraits in charcoal, I've used various ways to build up my tones including applying powered charcoal with different sizes of paint brushes. These give me control for the velvety and subtle value gradations that I'm aiming for. I am mostly self-taught, but over the years, I've taken portrait workshops with noted artists Melissa Weinman, Gary Faigin (the Gage, Seattle) and figure drawing classes with Juliette Aristides (the Gage).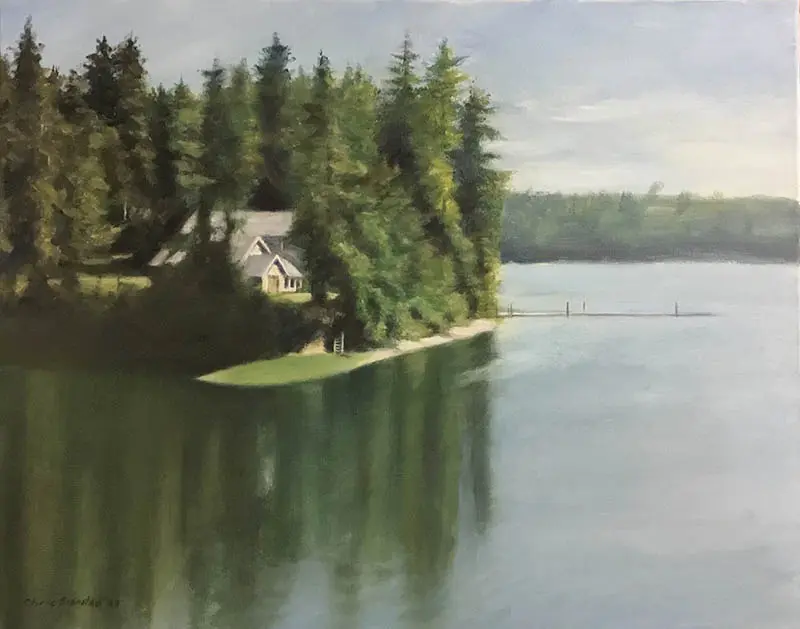 Chris Bronstad
Calm Morning Chris Bronstad_Filucy Bay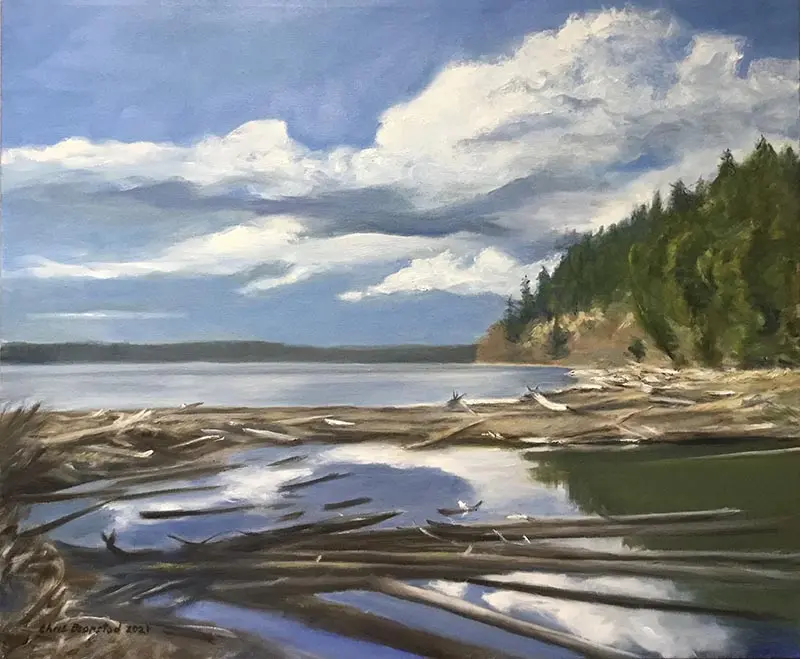 Chris Bronstad
View of Joemma and Case Inlet from Wetland
Chris Bronstad
Noble Companion